Home > Education > Educational Curriculum
Education
Educational Curriculum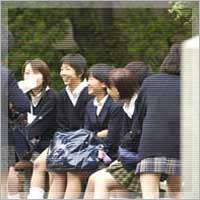 The Senior High School has 50-minute classes, six periods a day, five days a week.
Our curriculum is created with the goal of "striving to nurture people with comprehensive discernment and insight who blaze their own trails in life."
We build on the basic scholastic ability emphasized at the Junior High School, while integrating students entering from other junior high schools.
To help our students cope with diverse university and career choices, including internal advancement to Aoyama Gakuin University, we offer elective subjects from second year; over half of the subjects taken in third year are electives, allowing students to study more of what interests them.
Compulsory English language classes are divided into levels of difficulty across all years. The faculty of Aoyama Gakuin University and Women's Junior College also hold "Academic Introductory Courses" on Saturdays to help guide students as part of their comprehensive learning.
Courses
Number of Hours
Subject
Year
First Year
Second Year
Third Year
1
Bible
Bible (1)
Bible (1)
Bible (1)
2
Japanese Language
Integrated Japanese Language (4)
Contemporary Japanese Language B (2)
Contemporary Japanese Language B (3) 
3
4
Japanese History A (2)
5
Politics and Economy (3)
6
Geography and History / Civics
World History A (2)
Contemporary Society (2)
7
8
Mathematics
Mathematics I (3)
Mathematics II (5)
Three 3-credit Electives (Note 2)
9
10
11
Mathematics A (2)
12
13
Science
Basic Biology (2)
Basic Physics (2)
14
15
Health and Physical Education
Physical Education (2)
Physical Education (3)
16
17
Health (2)
Physical Education (2)
18
English Communication II (3)
19
Foreign Languages
English Communication I (3)
English Communication III (3)
20
21
English Expression II (2)
22
English Expression I (2)
English Expression II (2)
23
Classics B / Basic Chemistry (3)
24
Home Economics
Basic Home Economics (2)
Three 2-credit Electives (Note 3)
25
26
Information
Information Study for Participating Community (2)
Two 2-credit Electives (Note 1)
27
28
Art
Music I / Art and Design I / Calligraphy I / Crafts Production I (2)
29
30
Homeroom
31
The Period for Integrated Studies
| | |
| --- | --- |
| Note 1 | Standard Classics, Geography A, Mathematics B, Physics I, Basic Earth Science, Oral Communication A, Literature, Music I/II, Art and Design I/II |
| Note 2 | Classics B, World History B, Japanese History B, Geography B, Mathematics III (α), Advanced Physics, Advanced Chemistry, Advanced Biology, Elective Music, Elective Art and Design, Advanced English |
| Note 3 | Special Bible, Japanese Expression, Kanbun, Literary History, Special Japanese, Special Geography, Special World History, Special Japanese History, Special Contemporary Society, Mathematics III (β), Math Practice, Basic Math Practice, Physics I, Chemistry I, Integrated Biology, Advanced Earth Science, Environmental Science, Special Physical Education, Ball Games, Music II/III, 3D Art and Design, 2D Art and Design, Calligraphy I/II, Crafts Production I/II, Oral Communication, Media English, Listening Comprehension, English Seminar, Special English, French, German, Chinese, Korean, Basic Food, Inquiry Learning ICT |