Home > School Overview > Distinctive Education
School Overview
Distinctive Education
Training hearts that seek truth, love, and nurture.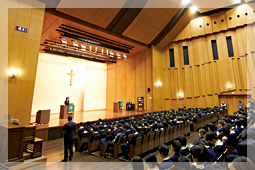 Daily Worship is the Core of our Education
Since its establishment, the Senior High School has without fail observed daily worship. The gathering of teachers and students to reflect on the words of the Bible is the core of this School's education.
Staff and students also come into closer contact with Christianity through Christmas, Easter, and other special worship services such as the Christmas Tree Lighting Ceremony.
In Bible class each week, students learn more about the messages spoken in the daily worship services. Throughout the three years, students learn more about Christianity, from fundamentals to Christian thought and lifestyle in society.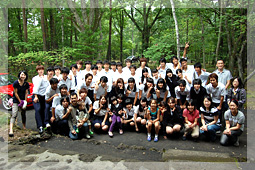 Various Opportunities to Encounter the Spirit of Christianity
During the summer vacation Green Camp, students can experience God's blessings, surrounded by nature while doing farm work and taking care of animals, and learn more about sharing our world with others.
There are also many clubs unique to a Christian School, such as ABF (Aoyama Bible Fellowship), Organ Club, Choir and Hand Bell Club.
Through diverse educational programs, we train students in perception, discernment, communication, and trailblazing in life as well as scholastic ability.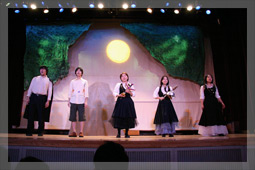 Well-Structured Curriculum
From second-year, students have fairly flexible options for elective subjects oriented toward their university or career paths. In the third-year, at least half of their week comprises elective subjects. We offer high-quality, unique classes that can take more than 50 students, such as opera composition classes and classes discussing social issues in English.
Through this program, unique to our integrated system that leads on to university and graduate school, students can learn more about things that appeal to their individual interests.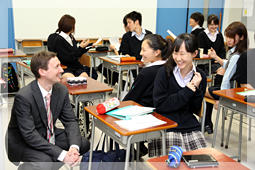 Developing the "English Aoyama" Tradition
While we have always put efforts into traditional English language education, our program has many native and Japanese English teachers. In addition to five hours of compulsory English classes a week for each year, there are various elective classes for second year and third year students.
The compulsory classes are streamed into three levels.
There is also examination coaching for those who want it (the English Proficiency Test, TOEFL or SAT, etc.) as well as a "Chat Room" (communication sessions with international students who have come to Aoyama Gakuin University) run by the institution.
"Introductory Academic Courses" by Aoyama Gakuin University and Women's Junior College Faculty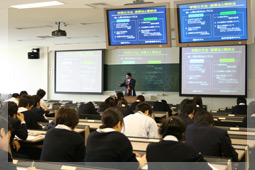 On Saturdays, the faculty of the University and Women's Junior College hold special "Introductory Academic Courses" to give the Senior High School students an easy-to-understand introduction to their respective academic fields.
Students can choose from around 40 lectures in a year in both humanities and sciences; each lecture is two hours long and is held at the University campus.
This has a great influence on future university and career choices, and is a program unique to our integrated school system.
Freedom and responsibility: Training people to fulfill their duties as part of a team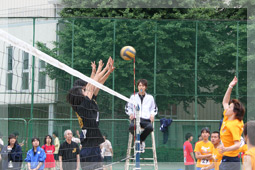 We train students to be independent through many student-led events.
One of the features of our Senior High School is the large number of events.
The inter-class volleyball competition and the cultural festival organized by the student council are some of the fun events that capture the enthusiasm and energy of students each year.
Even homeroom days and some field trips are planned through class discussions led by class representatives.
Club activities are also left to the discretion of each club as an important opportunity for building character.
Many students take advantage of the uniqueness of a school that allows internal advancement, and immerse themselves in activities until well into their third-year.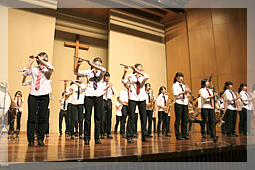 The student council has a relatively free and autonomous role in the School, considering school regulations and occasionally offering motions to alter them. It also actively takes part in dialog with students of other schools and in environmental conservation activities.
Traditional education for international understanding: Training people to understand others beyond national and cultural differences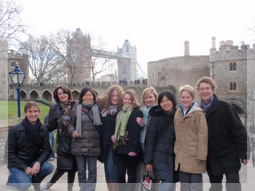 The aim of international exchange at this school is "sharing diversity" itself.
International exchange at this school involves more than coming into contact with people from other countries; it is deeply connected to the Christian ideology of "accepting values different from our own."
Our School has been accepting a fixed number of students from overseas each year since the 1970s, a step that many other schools in Japan have not yet taken. The students are incorporated into normal classes and have a great influence on those around them as people who have experienced another culture.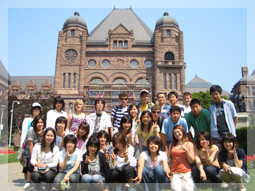 We also take in students who have been on year-long exchanges abroad as well as being involved in various exchange events, such as sending people overseas, short-term exchange programs (with the Leys School in the United Kingdom and Liceo Legnani in Italy) and an optional summer homestay program in Canada.