Home > School Overview > History of the senior High School
School Overview
History of the senior High School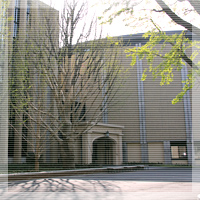 Aoyama Gakuin Senior High School was formed as a new-system senior high school in 1948 as part of the postwar education reforms of secondary education, in which the former Higher Division for boys was renamed as the Senior High Division and the former Women's Higher Division was renamed as the Girls' Senior High Division.
In 1950, graduates of the new Junior High School advanced on to the Senior High School; entrants from other junior high schools were also welcomed, and the new coeducational Senior High School was formed.
In 1986, in order to strengthen ties with the Junior High School, the Senior High School was amalgamated with the Junior High School and named the High School.
However, as daily educational activities continue to be separated even after the amalgamation, both Schools respect each other's originality and work hard to strengthen their ties within the integrated system of Aoyama Gakuin.
Construction work of new school buildings began in 2008 with the goal of building a new Senior High School.
Timeline of the Senior High School
1950
Coeducational Senior High School is established (joined with the Girls' Senior High Division)
1951
Repair of the Platt Memorial Hall, which was damaged in the war. Renamed as the Platt Sprawls Auditorium (PS Auditorium) to include the name of the former headmistress of the Women's Division
1952
Completion of the South Wing (later South A, demolished in 2008)
1958
Completion of the gymnasium (demolished in 2008)
1960
Completion of South B (chemistry laboratory, library, and club rooms); completion of Hakuba House
1961
Six-day system is implemented
1964
Transition from a two-year system to a three-course system (same homeroom)
1965
Student Center is completed (part of the 90th anniversary events)
1967
Course system is changed to humanities and sciences; homeroom is integrated
1972
Further step towards freedom with significant uniform changes (slightly modified later)
1973
Course system is abolished, introduction of large-scale elective subjects
1976
East A (including library and lecture hall) and East B Buildings (including classrooms for Art and Home Economics and multipurpose rooms) are completed as part of the 100th anniversary events
1980
30th anniversary of the Senior High School
The Thirty-Year History of Aoyama Gakuin Senior High School is published
1982
Plans to reinforce English language education in response to reforms in curriculum guidelines. Compulsory English classes are doubled in third year
1986
Integration with the Junior High School, becoming the Junior and Senior High School
1988
Homestay program with members of the Texas Methodist Church begins (until 2000)
1989
Completion of the Junior and Senior High School buildings (including audiovisual classroom and computer classroom)
1995
Short-term exchange program is started with Leys School in the United Kingdom
1998
Exchange started with Bara School in St. Petersburg, Russia (until 2004)
1999
50th anniversary of the Senior High School
The Fifty-Year History of Aoyama Gakuin Senior High School is published
2002
Homestay program with members of the Methodist Church, Berry, Canada, begins in place of the Texas homestay program
2003
Current curriculum is implemented; five-day system is implemented
2005
Short-term exchange program is started with Pascal High School, Novara, Italy
2006
Decision to rebuild the entire Senior High School
2008
Stage 1 of construction of the Senior High School begins
2014
Construction completed