Home > School Overview > Educational Policy and Goals
School Overview
Educational Policy and Goals
The Educational Principle of Aoyama Gakuin Senior High School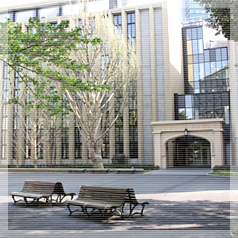 In accordance with the Educational Policy of Aoyama Gakuin, we strive to build individual character and to support self-realization. We also aim to nurture people who use their God-given abilities for the benefit of others, who are glad to live in community with their neighbors, and who contribute to a peaceful society.
Educational Goals of Senior High School
Through worship and study of the Bible, develop an attitude to pursue truth and nurture people who think deeply about God and life and love and serve others.
Through the study of each subject, nurture people with comprehensive judgment and insight who are able to carve their own path in life.
Through various activities at school, nurture people who know the role they are expected to play in society and who can fulfill that role.
Nurture people who can bear responsibility for the future of society from a global perspective.